Glass Frosters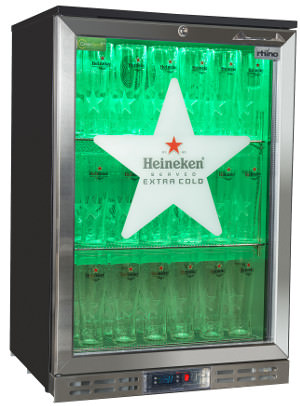 For the perfectly served draught beer, the new Rhino range of glass frosting cabinets will freeze down as low as -12 Centigrade so that your customers can enjoy an ice cold drink. All too often, during a busy service, glasses are taken straight from the glass washer, where they are rinsed at 82C and the beer is poured into them straight away. The new Rhino glass frosters overcome this problem and the customers appreciate the attention to detail. What's more, the cabinet can be adjusted as warm as +2C if you wish to use it as a fast cooling bottle chiller. In bottle cooling format, it will chill down the bottles approximately 20% faster than our standard series.
For the best of both worlds, choose the "Dual" which features a "sub-zero" zone for beers or ciders and a second a glass frosting zone.
Heated glass doors keep the condensation away and the latest energy saving EC fans from German brand leader, EBM Papst, keep the energy consumption to a minimum. A defrost heater ensures fully automatic operation. The shelves are fully height adjustable.