Tailor Made Solutions
All we need is a challenge
We find solutions
Many times we are approached with a problem that our existing range of coolers cannot solve.
Diageo, Carlsberg, and Cadbury are just three of the prestigious global brands who have commissioned bespoke product merchandisers from Staycold. Projects begin with identification of the sales channel in which distribution or improved display position is sought. Staycold's 30 years of experience are then put to use as the technical teams take up the unique challenges presented by the product brief. Following prototyping and testing, safety certification is required according to the product and country specific requirements. Then comes the roll out phase where a well developed production, storage and delivery system are utilised. Many projects are much more straight forward customisation jobs on exiting cabinets which improves speed to market and reduces development costs considerably.
Here are a few case studies of challenges we have overcome by developing bespoke solutions for our clients.

Perfect Serve Unit

Diageo, owners of brands such as Baileys, Smirnoff and Gordon's Gin, needed a system that serves drinks at perfect temperatures at a very quick cooling rate. Considering most coolers chill products within 8-24 hours, this was quite a challenge.

Our solution:
A Perfect Serve Unit that uses a serpentine system to chill bottles in around 2 hours and dispenses them at perfect drinking temperature.
This solution was also used for Carlsberg. Please watch the following video for additional information.
Innocent Drinks
Innocent needed an eye-catching way to serve cool juices on the playground.
Our solution: A cooler on wheels, able to maintain appropriate temperatures and covered in grass.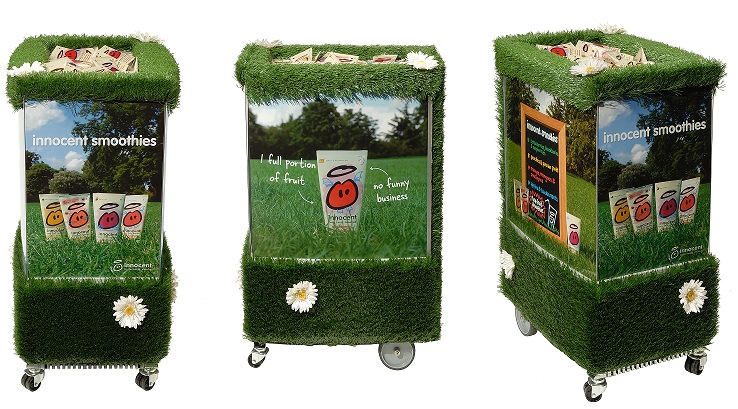 Guinness Icebox
Diageo once again looked to us to develop a cooler that works with intermittent electricity in Nigeria, where their brand Guinness, is very popular.
Our solution: We developed a custom cooler exactly as requested – a cooler that runs on intermittent electricity with technology that allows remote monitoring of the effectiveness of the coolers.
Contact us for further information or to discuss a solution you might need.