The Commonwealth Games will arrive in Glasgow on July 23rd, with thousands of visitors from around the world set to enjoy the sporting competition. Over the course of the 11 days, 70 nations and 6500 athletes will compete in 261 events across 17 sports from lawn bowling to gymnastics. It will be a great time for sport, showcasing talent from all corners of the Commonwealth.
Staycold is proud to have been selected by AG Barr plc, the Official soft drinks supplier to the Glasgow 2014 Commonwealth Games, to provide their beverage cooling requirements.
Staycold has assisted AG Barr to select products from its range that are correctly sized to maximise sales from the various locations. For example in some venues, a high capacity SD1140 was selected, whereas in others an impulse dump bin Cold 445CC was chosen as the most appropriate. As a result, thirsty game goers will be served with a plentiful supply of perfectly chilled beverages, made available to them in convenient locations.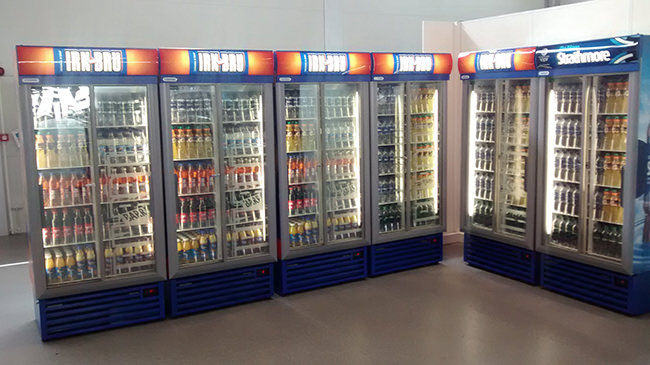 The Irn Bru branded coolers installed in the Athletes' Village at the 2014 Commonwealth Games
With 500 branded coolers to manufacture, deliver and install, the logistics operation continues to be of critical importance. Staycold is on track to complete the brief from AG Barr, on-time and on-budget.
Meeting the deadline of the Commonwealth Games, has called for careful planning by Staycold in conjunction with the professionals at AG Barr as well as the Organising Committee, followed by precise execution to oversee the various elements. To give a sense of scale, here is our involvement by numbers:
12 months planning with in excess of 1500 emails
14 countries supplying components
5 survey visits by 2 Staycold commercial assessors
500 cabinets produced by 150 workers
36,000 gravity feed shelf lanes installed
12 x 40 foot containers to ship the goods
4 cargo vessels
14 days to deliver with 18 delivery lorries
36 delivery staff to be security cleared
38 venues to be site surveyed, with 394 separate installation locations
5 engineers on standby, 24 hours on call across the 12 days of competition
7 days for collection after the games are completed
400 cabinets to be re-commissioned for placement post-games
1 baby: Our Games Manager, Sarah is pregnant!
Here at Staycold, we have brought a high level of attention to detail for the execution of this prestigious order.
If your company requires branding solutions, Staycold has the expertise. Please Contact Staycold on 01244 321320 to speak to a member of our team and allow us to propose how we can meet your requirements.